Abhishek kar is a FRAUD ???
In today's blog we will know in details about the Abhishek Kar's journey
FINANCE NEWS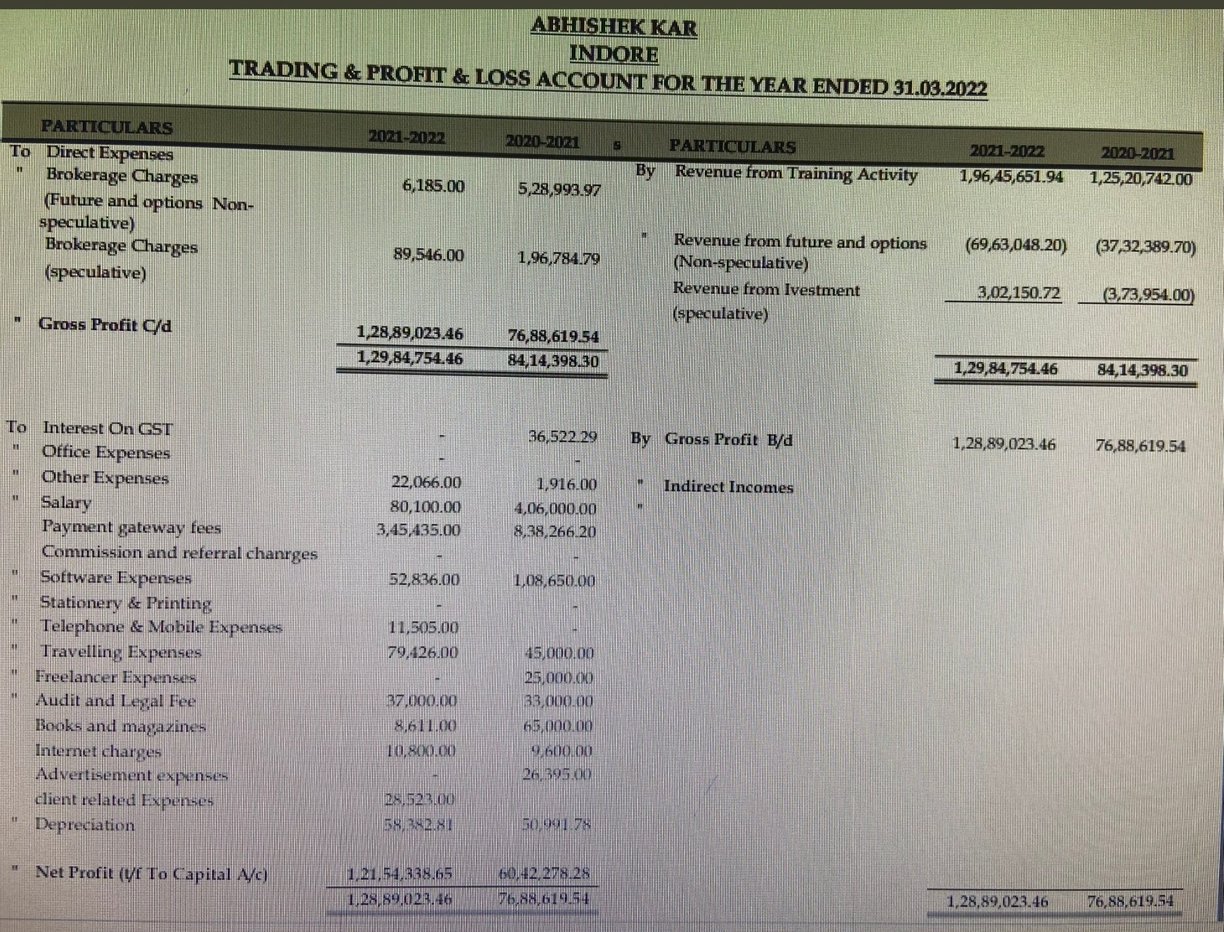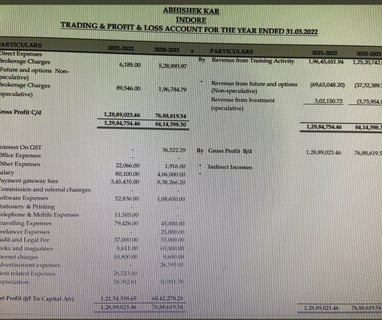 A very famous name who always has a say on everything on share market over YouTube and twitter is Abhishek Kar. He is known for his great skill which is not trading but storytelling. He is known for his communication skill and for blocking every person who asks him about his Verified P&L statement.
Following the fall of Ghanshyam Tech, a X handle Bandi Shreyas asked Mr Bajaj(co founder of stock edge & elearnmarket) to get the Abhishek Kar's P&L verified. Mr Bandi was sure of Kar being a fraud, he had already mentioned it many times on his videos, if what Mr Bandi claiming is found to be wrong he would donate 2 lakh to any charity of Kar's choosing. Mr Bajaj was quick this time, he asked the same thing to Mr Kar, who unlike Ghanshyam Tech was fast to send the P&L statement for 2 FYs.
The statement of Kar was later uploaded on twitter by Bandi Shreyas on which Mr Kar replied which makes it authentic.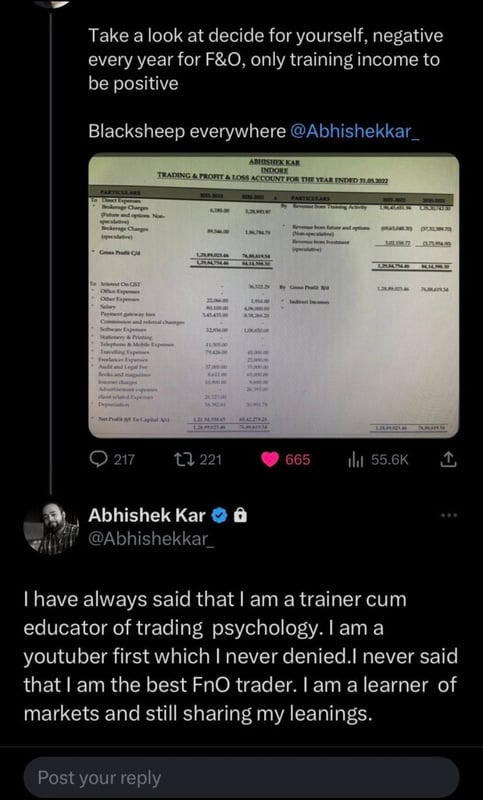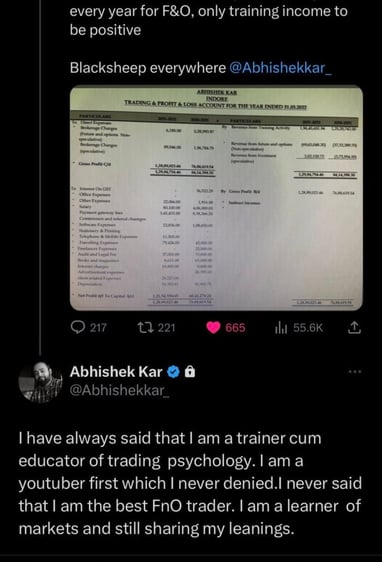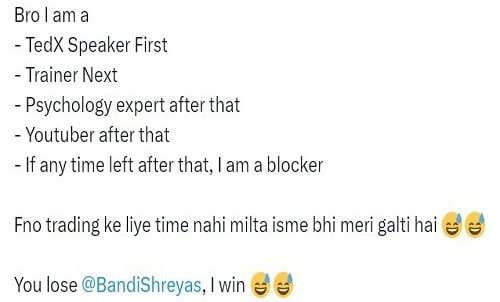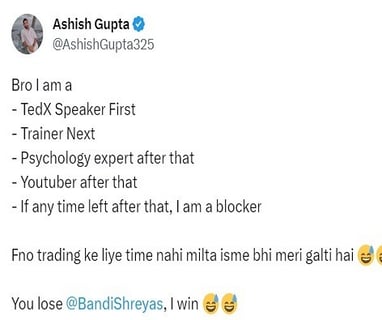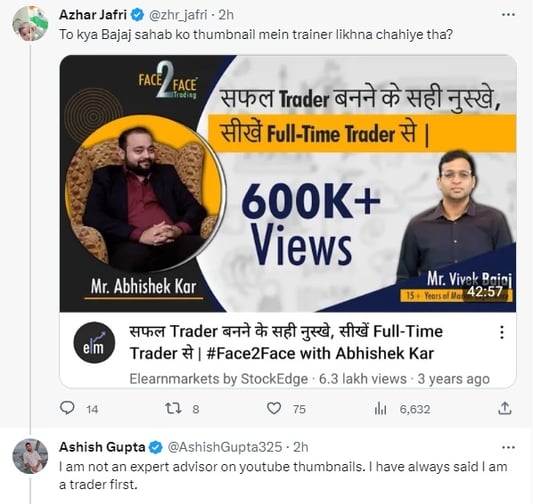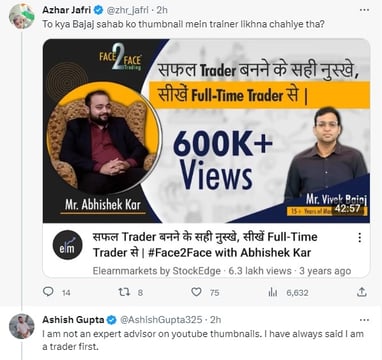 As you can see Kar's response which was so funny, people started making joke of his response. Kar later blocked Bandi Shreyas which everybody including Bandi knew.
Let's dive a little into Abhishek Kar's history. He claims on his twitter profit that he had 3 Ted X, 4 Josh talks & 101 awards and is a Bearish trader & Bullish investor. He after gaining knowledge of stock market started advisory firm which was a complete failure even on those offline days. Seeing the future and opportunity of digital world he started a YouTube channel on his name, to gain the follower he was very much active on Quora, at that time quora didn't have any monetisation policy. All the reader were led to his YouTube channel where he started exposing other traders who were looting retailers.
In few days people started asking him to expose every second trader who were fooled by fake trainer and advisors. He was very successful on exposing others just as today Zubare Khan is. He always showed screenshot and video of profit to lure newcomers. After exposing few he started selling stories about insider trading and great traders of all time, which worked like a charm on newbies.
Later he was seen on pic of foreign trip which was sponsored by Rigi, then he openly claimed that he has an advisory service. Afterthat stories surfaced that he is continuously fooling retailers and making loss in stock market, the no of these stories were very few because he was quick enough to block everybody who posts against him or even likes the tweets of his rivals.
Few days ago Ghanshyam Tech was exposed, which led to him. Retailers who come to YouTube or Twitter for learning are being manipulated by these finfluencers, who claim to be God of stock market. On the other hand there are some like Bandi Shreyas or Subashis Pani who are genuinely in profit over long term and are trying to help others.